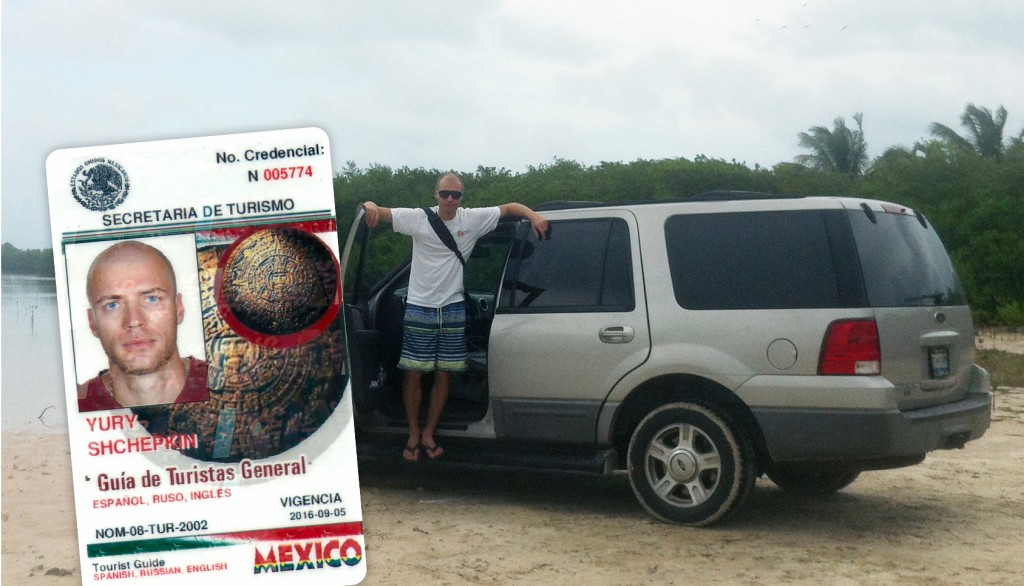 Shchepkin Yuri. Russian English and Spanish speaking guide in Mexico and Latin America.
I live in Mexico since 2007 !. During this time I was able to visit many parts of this beautiful country. I have lived in different places, including the capital Mexico- Quintana Roo. and its suburbs, in Jalisco- the largest state of Mexico and one of the most colorful, now live in Cancun on the peninsula Yucatan. Everywhere I traveled a lot, ..
My specialization- is an organization of tours, trips and expeditions in Mexico and Central America: Guatemala, Honduras, Salvador, Belize, and other countries of Latin America.
My objective- is to make your trip safe, interesting and unforgettable. I have been doing this for many years, show people this beautiful countries. I would be glad to help you visit the most interesting places, what we've got here, although, I plan my trips , according to your wishes, opportunities and time limit, that you are possessed..
I have all the necessary thing to do it: excellent knowledge of the countries, its history and cultures, comfortable and specially prepared to travel vehicles, excellent knowledge of the Spanish and English languages, as well as experience in tourism and, the most important, experience of living in the country. However, I never stop learning, and every trip for me is not just a job- it is an opportunity to discover something new and unknown. That's how I always strive to be.
My career began in Mexico with my own business, and not only one. During this time I had to work in advertising campaigns, promotion and implementation of projects in various places: Tourism, food industry, household mashinery, professional services in many areas, and more. That is why, based on experience in this business , I almost provide business support. In this case my task often is to assist in the business., translation at events, assistance in the analysis of the situation taking into account the knowledge of the local mentality and Mexican working traditions. In this case, the task I see help clients achieve maximum results of the trip, and comfortable conditions during. Geography of my travels is not limited to touristic trails, as Mexico industrial country and here there are many companies to make business with. By mutual agreement, I am willing to travel to any place in Mexico and even in Latin America, to help you in your work or traveling.
See you on the roads of Latin America!
My phone in Mexico: +521 998 1978695 viber watsup
mexicolife@mail.ru