Central America. The grand expedition andwith Mexico to Panama.
In this journey you, drive about 4000 kilometers will be introduced to all Spanish-speaking countries of Central America. travel format – natural History. You will see the ancient pyramids, modern and ancient Latin city, volcanoes and rivers, swim in waterfalls, lakes and hot springs.
Along the way you will private seasoned and the accompanying guide.
Number of days on tour – 28, but we will correct travel upwards, or diminishing, depending on your possibilities.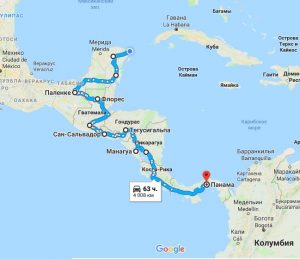 The thread of the route:
Mexico: Cancun-Chichen ITCA-Mahaualʹ-Cod-Chetumal-Bekan-Palenke
Guatemala: Tikal-Flores-Rio Dulce-Livingston-Izabal-Antigua-Atitlan
Salvador: Cerro Verde Volcano Concepcion de attack- Road Flower Costa Balsamika San Salvador
Honduras: Tegusigalypa-Danlí
Nicaragua: Vulkan MASAJE-Managua-Granada-Vulkan Mombaca
Costa Rica: National Park Rincon de la Vieja Volcano, Arenal Volcano, thermal springs, Waterfalls Poas
La Paz – Caribbean coast.
Panama: David - Gamboa – Panama City
sights, you will see:
Mexico:
Cancun and Playa del Carmen: Mexico's largest tourist hub, part of the top ten resorts in the world. Lapped by the warm waters of the Caribbean Sea it offers travelers chic beaches, great service, the best restaurants, hotels and plenty of entertainment.
Chichen Itza: One of 7 modern wonders of the world. Here you see a huge city – mixture ancient cultures Maya and Toltec. You will see the world-famous Great Pyramid of Kukulkan and learn, it has to do with the Mayan calendar, to see the Temple of Warriors, the largest in Mesoamerica, a golf ball, and more.
Mahaual: Until recently, Lost picturesque village by the sea, the people – the heart of the Mayan coast, here You will enjoy the atmosphere of a small Caribbean coastal town.
cod – lagoon of seven colors, as they call it, It is one of the brightest gems of Yucatan. In good weather you can count seven shades of blue in its clear fresh water. Here you see the living stones and underwater cenotes, and if you're lucky, and the oldest inhabitant of the planet – sea ​​cockroach.
Chetumal – chair Staten Quintana Roo. The small border town, where you can see the nearby coast of Belize.
Beqa. One of the obscure, and therefore mysterious places, where you can climb plenty of ancient structures and enjoy the views of almost alone.
Palenque – one of the most beautiful archaeological zones of Mexico, famous for its palace Jaguars dynasty, monumental temple inscriptions, Red Queen's tomb and other ancient buildings.
Gvatemela:
Tikal – another place, which we can not ignore. This is one of the four major ancient cities in the region (along with Chichen Itza and Palenque), but most of them are old and large.
Flores – a small cozy town, located on an island in the ancient capital of the Mayan state of Peten Itza on the island.
Rio Dulce – wide river, at the same time is a nature reserve is poured between the wet forests and jungle tropichaskimi. Here you will see a huge variety of birds and animals.
Livingston – completely unlikeandnd the rest of Latin America , which combines features and different cultures and nationalities . The thing is, that live here are mostly not natives, and Garifuna - descendants imported in these places nalozhnikov and slaves from Africa, which have created the appropriate color of city.
Antigua - one of the oldest colonial cities in the continent, while it is perfectly preserved. City, sandwiched in a narrow valley between the volcanoes. From the city it is best to get acquainted, calmly walking along its streets.
lake Atitlan – the result of a volcanic eruption and the subsequent explosion, beautifulher naturalth lakes on the planet. We will get acquainted not only with the lake, but with located on its shore town Panahchel.
Salvador:
Park "Volcano Cerro Verde" is located between the volcanoes of Santa Ana and Izalko. The stunning beauty of the park. Santa Anna and all served as a prototype of a volcano in the tale Exupery's "Little Prince".
The most picturesque country town – Concepcion de attack, which is famous for its colorful graffiti and a great Salvadoran coffee.
One of the main attractions of Salvador – the so-called Flower road. This whole area of ​​several villages, famous for its beauty and authenticity. Here just a storehouse of local culture, food, souvenirs. Well, I plan my trips , flowers sea!
San Salvador – El Salvador's capital, which is located at the foot of the volcano.
Honduras:
Tegusigalypa – the capital of Honduras, and the largest city in the country.
Danli – cigar factory, we visit. Not ignored and vast fields planted with tobacco.
Nicaragua:
Masajja – Capital of Nicaraguan art, famous for its handicrafts. The eponymous volcano – one of the most famous American of his "Devil's Throat"
Managua - not only the capital and largest city of Nicaragua, but also the second most populous after Guatemala in Central America.
Granada – beautiful city, born from ethyl Andalusian and Moorish building tradition. It is still well-preserved Spanish colonial architecture. It is considered the oldest city in Central America, along with Antigua, and one of the first, Europeans based in Central America.
Nicaragua lake – the second largest in Latin America after Lake Titicaca.
Mombacho Volcano National Park - a uniquesecond place beautiful scenery, The richness of flora and fauna.
Costa Rica:
Arenal volcano, lush rainforests and famous Podvesnye Bridges stretched over the wild jungle.
Poas Volcano National Park. Active volcano crater with a diameter of more than half a kilometer, which periodically regurgitates poles vapor and gas, however, the rise of which is perfectly safe.
Park Falls La Paz – it «must see» in Costa Rica! Crazy waterfalls , full of local residents – Kalibri, monkeys and tropical frogs) Required to attend!
Heredia - town, where he concentrated Bohemia Costa Rica and there is also one of the most beautiful urban centers in the country!
Kostarikanskie caribbean. We will pass on the Caribbean coast of the country. These places are known for their Caribbean identity and love of Rasta culture.
Panama:
David Township – eand the coffee plantations, and rum factory, and hot springs ... Also here you can actively spend time: available Hiking, rafting, bathing, tarzanki.
Panama City. Panama City, where you will see a mixture of towering skyscrapers and colonial buildings, picturesquex urban waste and modern shopping centers, kitsch mixture of wealth and poverty. Panama – city ​​of contrasts, which is the capital of the free economic zone. This city definitely will surprise you.
Gamboa- From here we start our day transit of the Panama Canal. We will go through several gateways of the world-famous engineering construction.